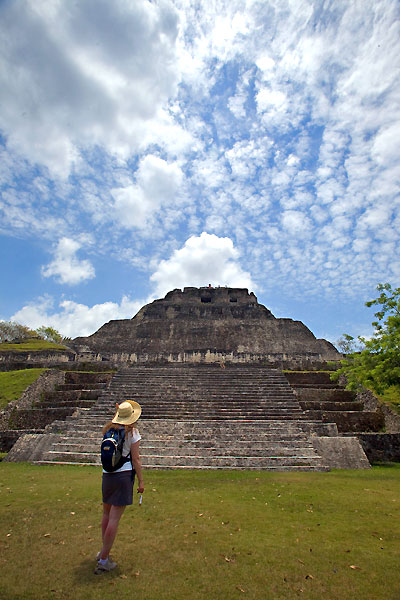 Belize was the center of the Mayan Civilization, which stretched north to Yucatan, west to Guatemala and El Salvador and south to Honduras. The Belize Old River served as a major trading route, with various important centers as Xunantunich, El Pilar, Cahal Pech and Altun Ha lining its banks.
When the British settlers started to arrive in Belize, they formed the first capital at Saint Georges Caye and later moved it to the mouth of the Belize Old River, where the second capital was locate in Belize City. This was done primarily to be better located to take advantage of the river as a major economic link to the inland areas with abundant resources. This city was largely destroyed by hurricane Hattie in 1961, which was the basis for thinking about moving to the current capital city Belmopan, the prefix 'Bel' for Belize, and 'mopan' for the Mopan Maya communities which are predominantly from that central and western region of the country.
The industries which thrived in the colonial days were based on timber and logwood, which were shipped primarily to England for extracting dyes and for building furniture. As there was not trains or highways connecting the interior, the river served as the highway. This was so until the 1940's when the Western Highway was pushed open as a dirt track, useable only in the dry season and was later paved and bridged at its various creeks and rivers. The Hawksworth Bridge, the only operating suspension bridge in Central America, was finally completed and opened in 1949 by British engineers. In the late colonial era, chicle ( raw gum for making chewing gum extracted from the sapodilla tree) became another important industry, all of which were transported to Belize City by boats travelling the river, before being shipped off the Chicago for the Wrigleys Company, a primary buyer of such raw materials in those days. The valley was long used for minor agricultural purposes, however it was until the arrival of the germanic origin Mennonite religious group, who chose to settle on the river banks at Spanish Lookout, that the valley became intensively farmed with heavy industrial machines. This area today supplies the country with most of its poultry, eggs, milk, beef, beans, corn, animal feed, sorghum, soya, and locally produced vegetables.
The timber, logging and chicle era were responsible for the formation of most of the existing villages that line the river banks. Many of these villages have since shifted from the river banks to the highway side as that economic artery has become of more value as small farming has declined.
The race is celebrated in conjunction with the celebration of Baron Bliss Day, in commemoration of one of Belize's benefactors.